RATING: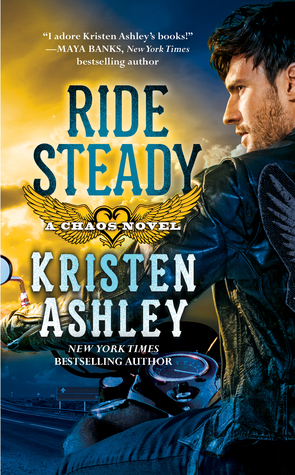 The ride of her life . . .
Once upon a time, Carissa Teodoro believed in happy endings. Money, marriage, motherhood: everything came easy---until she woke up to the ugly truth about her Prince Charming. Now a struggling, single mom and stranded by a flat tire, Carissa's pondering her mistakes when a vaguely familiar knight rides to her rescue on a ton of horsepower.
Climb on and hold tight . . .
In high school, Carson Steele was a bad boy loner who put Carissa on a pedestal where she stayed far beyond his reach. Today, he's the hard-bodied biker known only as Joker, and from the way Carissa's acting, it's clear she's falling fast. While catching her is irresistible, knowing what to do with her is a different story. A good girl like Carissa is the least likely fit with the Chaos Motorcycle Club. Too bad holding back is so damned hard. Now, as Joker's secrets are revealed and an outside threat endangers the club, Joker must decide whether to ride steady with Carissa---or ride away forever . . .
Review
*ARC received from publisher via Netgalley*
While I still have plenty of KA reads to go thru, Joker, without a doubt, will place top 5 in my KA H's regardless. Like Tack, from the
Dream Man
series, the big daddy of Chaos, Joker has won me over from the get-go.
Other than
Motorcycle Man
that spawned the
Chaos
series, I haven't gotten to Shy/Tabby's or Hop/Laine's stories yet in this particular series, but it's all good. In time I know I will, but in the meantime, here we're talking Joker and Carissa' story, and what a sweet tender smokin' story it is!
It's not quite about 2nd- chance, and at the same time it is. It's about the good people getting a break, good people meeting other good people, good people finding his/her place in the world and the right person standing next to him/her.
Joker had me at the prologue, simple as that. And I'm glad KA gave us another quirky feisty strong h in Carissa, who's worthy of Joker. She made me laugh and she made me root for her from beginning to end. Joker, I can swoon over him from here to the moon and back, which I know doesn't say much, so I will just say that if you're a KA fan and familiar at all with her H's, then he fits the mold like a glove… sigh…
And with it being typical KA at her finest, you get to see the characters that you love in her previous books, you get the crazy h shenanigans, you get the badass-est meeting of the H's, you get the most adorable kid, or baby in this case, and you get some of the finest swoonalicious heartmelting lines you'll read in a romance read.
Oh Joker, Joker… definitely one up there in the top list…sigh…
Thanks for dropping by!
~Leftie