***NOTE: (Updated Mar 2018) Review and rating withdrawn. Post only remaining for posterity sake and on the chance that you come across it, that people who are not familiar with the story will pause and google it. This is no way a denial of those hurt by the author and and I actually do want to give a shout out to all the brave souls who bared themselves and told their stories. May they find the healing they deserve.)
REVIEW
: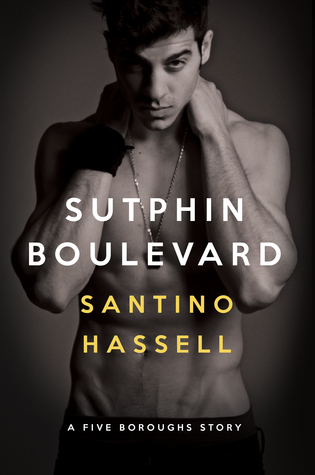 Michael Rodriguez and Nunzio Medici have been friends for two decades. From escaping their dysfunctional families in the working-class neighborhood of South Jamaica, Queens to teaching in one of the city's most queer friendly schools in Brooklyn, the two men have shared everything. Or so they thought until a sweltering night of dancing leads to an unexpected encounter that forever changes their friendship.

Now, casual touches and lingering looks are packed with sexual tension, and Michael can't forget the feel of his best friend's hands on him. Once problems rear up at work and home, Michael finds himself seeking constant escape in the effortless intimacy and mind-blowing sex he has with Nunzio. But things don't stay easy for long.

When Michael's world begins to crumble in a sea of tragedy and complications, he knows he has to make a choice: find solace in a path of self-destruction or accept the love of the man who has been by his side for twenty years. 
My first Santino read was a collab with another author so I guess on his merit alone, this is a first. And boy, talk about angst! And boy, talk about me not imagining that I would actually say angst and m/m romance in the same breath!
This is Mikey's story with Nunzio. Mikey and Nunzio has a lot of history dating back to childhood. They've been best friends for eternity, and they even work at the same place doing the same profession. They've sorta' fooled around with each other throughout the years but Mikey, in particular, didn't think more of it until something happened the summer his last relationship finished. New feelings have started to surface, feelings that Mikey didn't want to acknowledge. Meanwhile, Mikey has a lot of family issues to deal with; issues that ultimately led him to spiral down. So where did Nunzio fit into all this? I guess that was the big question.
Mikey almost(?) has this hero-martyr complex. His thoughts challenged me a bit, especially in the beginning. I almost want to give him a smack in the head, but by the end, I felt for him. In my head, his angst somehow evolved into a cry for help which he badly needed. By the end, I understood the conflict in his head, whether I agree or not. Slowly, Mikey's struggles became real and no laughing matter. Family dynamics bring its own challenges. Mental health concerns are difficult to deal with and harder to comprehend.
Nunzio, as far as I'm concerned, was the star in my mind. I wish there were more pages spent on him. I wish I had a glimpse into his head, even a tiny one. While he's not perfect with his sometimes abrasive attitude, he was a real good friend to Mikey and he cared deeply for him. For all the things that came out of his mouth, whether sarcastic or caring, I felt his actions definitely spoke louder than his words when it came to Mikey. And clearly, he was Mikey's anchor.
Regardless, I really did appreciate the friendship between these two. And their times together were SMOKIN' HAWT!!!!... ummm… DANG!!! (Sorry, got distracted there for a sec *g*)…
Some, just some, of the dialogues did feel a little stilted to me, but it wasn't too distracting, luckily. And I did love the way Santino described his settings. It's like seeing the city through his eyes.
Lastly, throughout Mikey's journey, I also got to know his brother, Ray, and Mikey's new found "friend", David. Their story is next on the series. I'm looking forward to that one, for sure. Ray has started showing maturity by the end of this book and David's personality was starting to shine, turning from this entitled self-indulgent keener to a real friend who genuinely cares,

so it'll be really interesting to see how the dynamics between them will play out.
Thanks for dropping by!
~Leftie