RATING: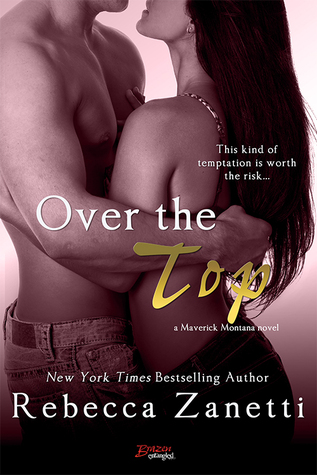 Dawn Freeze had a huge crush on Hawk Rain for years, and the entire town knows it. It's understandable―the man is total hotness. That tall, lean body. Intense dark eyes. And always one foot out the door. Now he's on leave for exactly one week. And this time, he's made it crystal clear that he only wants one thing. Her.
Hawk's been fighting his attraction to Dawn for as long as he can remember. She's his best friend's little sister, and that means hands-off. Except now she's all grown up, and her sweet sexiness is exactly what he craves. But just as Hawk allows himself one mindblowingly intense night with Dawn, he learns that everyone he loves is in danger. Especially her.
And the only way to protect Dawn is to push her away...
First of all, I'm a big fan of Rebecca's
Sin Brothers
series (which reminds me I need to review them here too >.<). Second, Entangled Brazen is a definite guilty pleasure for me. So seeing this on Netgalley, Zanetti + Entangled Brazen, hey, my first thought was sign me up!
I realized this is the 4th book in the series but it is a standalone. The first 3 is about the Lodge-Freeze brothers. This is now about the baby sis, Dawn, and Hawk. They have a history that goes way back. Dawn's been into Hawk for like forever and Hawk, yah, he was too, but too many things in his head were preventing him to take things further. Until he just had to take things further O.o
Dawn is a good h. She's the baby sis who has something to constantly prove to this older bros. And Hawk is your strong quiet type who'd rather keep things to himself. She doesn't wanna be bossed around and he only knows how to boss her around, in a delish way if I may add;)
I'm not sure why but it's not quite what I was expecting, even though I usually know what to expect from a Brazen read. I think the fact that this is from Rebecca altered my expectations somehow. I was expecting the usual Rebecca read and may have forgotten that yes, this is still a Brazen read.
But I'll tell you what I like. Just like the other Brazen reads, you get a quick read with enough heat and a decent story, and not too heavy on the angst. Particularly with this one, I like that Dawn and Hawk has a history, I like the humor (esp among the men), I like the sense of family, I totally like the Elk Ladies (What a hoot!!! One scene totally made it!), and I totally like Hawk's "grand gesture" at the end. Adorbs!
Thanks for dropping by!
~Leftie