RATING: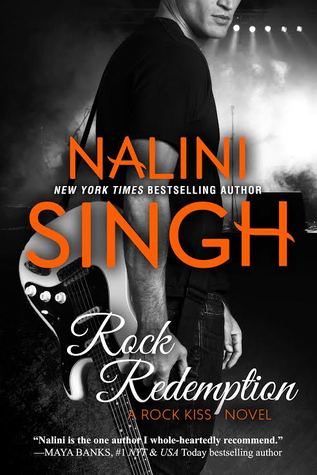 Kit Devigny could have loved rock guitarist Noah St. John. Their friendship burned with the promise of intense passion and searing tenderness…until the night Noah deliberately shattered her heart.
Noah knows he destroyed something precious the night he chose to betray Kit, but he'd rather she hate him than learn his darkest secret. All he has left is his music. It's his saving grace, but it doesn't silence the voices that keep him up at night. Chasing oblivion through endless one-night-stands, he earns a few hours' sleep and his bad boy reputation.
When a media error sees Noah and Kit dubbed the new "it" couple, Kit discovers her chance at the role of a lifetime hinges on riding the media wave. Wanting—needing—to give Kit this, even if he can't give her everything, Noah agrees to play the adoring boyfriend. Only the illusion is suddenly too real, too painful, too beautiful…and it may be too late for the redemption of Noah St. John.
Oy! Angst, angst, angst
...
Ummm, not really sure what just happened here… I feel like the angst here was maxed out to the bling, which is not necessarily good. If you're a chocolate lover like me, it's like eating a very rich chocolate bar that you can only have a square or 2 at a time. At least that's how I felt.
This is now Noah and Kit's story. They're good friends with a strong connection, until they weren't, then they were again. They're both in the limelight and that strong connection they have translated well in pictures so it was decided to best capitalize on it.
Noah was as closed off as a tight-lid jar bursting with liquid except with Fox. He's damaged but there was attempt to fix things, well, somewhat, esp when it came to Kit. He really is a sweet guy, esp when it came to Kit. Kit, fortunately, has the patience of a saint and has enough sensibilities to deal with Noah. Their friendship is admirable, and their connection is something quite to be jealous about, I thought.
Some readers may be put off by Noah's action in the very beginning, I was just confused. Was that really necessary to take it that far? I was thinking there were less d0uche-y actions to convey the same message. That's just me though. Also, I thought Noah's personal issue was kinda' overplayed, so as painful as it was, he lost some of my sympathy and add to that, the focus on re-building their friendship, it took a lot of pages for what I thought could have been utilized to focus on their relationship as a couple.
Angst aside, there's enough action to spike up the mood a bit, courtesy of Kit's personal dilemma. It was nice to see the rest of the band and their women. So really, I think I still enjoyed it enough but I know I could've enjoyed it more. Next up is Abe's story. Of course, I still would want to read that. After all, I want to see them all get their HEA.
Thanks for dropping by!
~Leftie