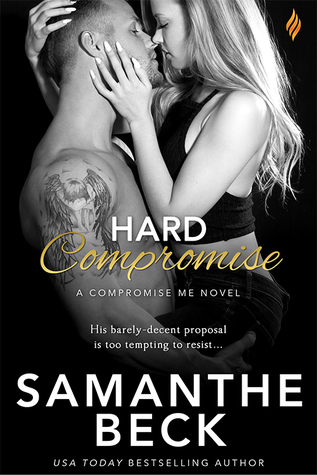 Laurie Peterson assumes her impulsive one-night stand with sinfully sexy Sheriff Ethan Booker is the biggest surprise of the year…until her bakery burns down while she's basking in the afterglow. It looks like her dreams are up in smoke, but then Ethan proposes a deal too tempting to resist.
Ethan has no intention of settling for a one-night stand with Laurie. Nor does he want anything to do with the women his wealthy family wants him to meet. Not when he's waited ten years for his chance to make his move. His deal might have strings—and Laurie may not know the stakes—but nothing will stop this sexy cop from staking a real claim on her body and her heart.
RATING:
Outside of this Samanthe book, I've only read
Compromising Her Position
, the first stand-alone book in this series. With that book, I knew she will be one of those authors I can return to for my Brazen reads. So here I am again, and yup, Samanthe is definitely a repeater for me☺
Not that this has to do with anything, but I just thought I'd mention it. If you've read the first book, you'd have met Laurie briefly. Call me slow, I actually didn't put 2 and 2 together until almost halfway thru that this is the same Laurie. HAH! I forgot, ok? The friend who I thought showed spunk now gets her own story, yay!
Laurie and Booker's first meeting occurred when Laurie was just 16. It was brief but memorable enough for both that a promise, sort of, was uttered inadvertently. Fast forward 10 years later, from that first meeting, intent was then delivered.
Booker is just too delish for words! With the dirty-talkin' mouth of his, he def knows how to set
me
Laurie on fire. He's so protective of Laurie and just really down-to-earth when it comes to his values. Laurie, has a lot of sharp edges due to her upbringing. Can't really blame the gal now, can ya? And she did her best to be more aware of her triggers. But she's a good person.
While this is not necessarily a new story and while I totally didn't get the pull from that one meeting 10 years ago which set them on this path, I was more than ok with it. I really liked this, and by this, I mean primarily Booker hehe... Laurie and Booker together done Brazen way with Samanthe signature means SMOKIN'!!! I'll leave it at that*g*
Thanks for dropping by!
~Leftie