RATING: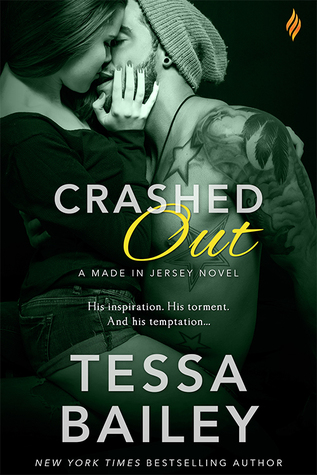 Jasmine Taveras is the reason Sarge Purcell grabbed his six-string and bailed the hell out of New Jersey four years ago. She's the fuel for every song he's ever written—each one laced with bitter, hard-edged, hungry lust. Now, with his hugely successful band on temporary hiatus,
Sarge is determined to prove to Jasmine that this "kid" turned into every inch the man she's always needed...
Men are slim pickings for a single factory girl in Hook, New Jersey…until tall, broad-shouldered hotness walks—or rather storms—into Jasmine's life. Sarge's return shouldn't affect her this way. He's her best friend's much younger kid brother, and the kind of rough, gritty, sexiness Jasmine has no right to taste for herself. Even if he lets her.
But lust is a blinding, insatiable force. And when it crashes, it will take both Sarge and Jasmine down with it...
Yes, people, I can now confirm, seeing this is Tessa...
BAHAHAHAHA
I'm gonna go ahead and just say it, Sarge is like a beast in heat when it came to Jasmine, and I was all for it! HAH!
Ooof, it's like Tessa took out her big smut gun and just let out with this one. I haven't gotten to all of Tessa's work yet but so far, I think this is one of hottest I've read of her books, ooof!
With Sarge returning to his hometown after being gone for a while, enough years have gone by, as in 4 years, so that the age difference b/w him and Jasmine is "more acceptable" and less pervy, at least as far as Jasmine is concerned. If it's up to Sarge, I'm sure if he could've had his way with her 4 yrs ago, I'm sure he would've. But things happen… Sarge's life moved forward positively; whereas Jas just got stuck… that's a tough pill to swallow sometimes…
I thought it was adorable how Sarge felt about Jasmine and he really carried that torch for her, didn't he, figuratively and may I say biblically too?
I love how Sarge is quite secure with his emotions and I think he totally carried that relationship. I'm telling ya, beast in heat or not, that kid can talk the dirty talk! And he's sweet! And he totally gets Jasmine! And he's generous! And I can keep going and going!
I have to say Jasmine challenged me for 2 sec but I get it. It's hard to feel secure when it feels like the card is stacked against you. But I totally appreciate her pulling her older girl knickers and just claimed what's hers.
Oh and the chemistry with these 2! I say one for the Brazen record… just sayin…
Super <3 Sarge!!!
Thanks for dropping by!
~Leftie